Inner Knowing: Women's Retreat for Mindfulness, Empowerment and Enjoyment
With Judith Waldman and Kara-Lee Ruotolo
December 6 - 8, 2019
Inner Knowing: Women's Retreat for Mindfulness, Empowerment and Enjoyment
Welcome to our journey together.
We invite you to join us, Judith and Kara-Lee, and this gathering of women, as we nurture our senses, create energy and balance, and enjoy our creativity.
We bring women together to deepen our connection with ourselves and with others and to strengthen our ability to create change within and in the world at large: We care, we share, we learn, and we have fun.
We are providing a time for reflection and growth, self-care, and self-knowing in order to enhance our ability to live with purpose and resilience.
Throughout our retreat we have opportunities to explore what gets in the way of having access to our own wisdom and how to move forward. We also have opportunities for relaxation and renewal: Being present, being true to ourselves, being Wise Women!
We hope you enjoy our own unique blend of processes that include Mindfulness Meditation and Movement, Gentle Yoga, Art, Music, Writing, and Playfulness.
From Judith and Kara-Lee:
"We love sharing our combined years of experience and practices with other women. This retreat will be suffused with our caring, enthusiasm, and wisdom."
We will all be nurtured by a lush old growth forest, a serene sanctuary, a lovely labyrinth, and fabulous food. Upon arriving, one can feel the sacredness of the space.
Give yourself this gift of time and care and learning and it will flow on!
From a past retreat participant:
"My experience at the Women's Retreat was an absolute joy! Self care was at the heart of our daily agenda and the tools and strategies I learned throughout the weekend were easy to integrate into my busy life. They have already had a positive impact, decreasing my stress level and increasing my sense of well being. I look forward to more!"
$398, includes lodging in a single room, all meals, and the workshop.
$358, includes lodging in a shared double room, all meals, and the workshop.
Hosted by Judith Waldman and Kara-Lee Ruotolo
Colibri Yoga and Mindfulness
Faculty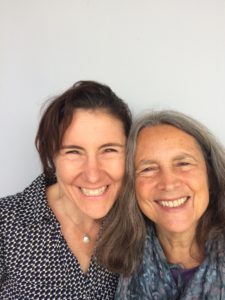 Judith Waldman and Kara-Lee Ruotolo
Judith Waldman, MSW, Director of "Women's Journeys" and co-author of "Stand, Flow, Shine: Caring for the Woman Within" (standflowshine.com) brings many wonderful years as a national workshop leader, and trainer for other leaders. "Leading workshops and retreats for groups of women is a great pleasure in my life – providing experiences that are nurturing, healing, empowering, and joyful." Kara-Lee Ruotolo, MA.Ed, began practicing and studying yoga in Seattle in 1995 and spreads her love of yoga and mindfulness wherever she can. She is passionate about community building and is currently bringing mindfulness into professional development trainings for teachers and administrators…
Learn more about Judith Waldman and Kara-Lee Ruotolo