Bet Alef Meditative Retreat
With Rabbi Olivier BenHaim
January 28 - 30, 2022
The Chasidic masters of 18th century Eastern Europe called the practice of contemplative meditation Hitbonenut. Following in their steps, each participant in the Bet Alef Shabbaton Meditation Retreat will be given tools to discern for him/herself what is, at present, most calling for attention in their lives; and set for themselves a Kavanah, an Intention/Focus, for the retreat and beyond. They will then choose a sacred word or phrase commensurate to their Kavanah to use through this weekend of Hitbonenut, contemplative meditation practice.
As an inclusive and open congregation, Bet Alef engages people from many spiritual and faith traditions. "The messages and teachings which the Bet Alef community and I share come from the roots of a 3,000 year-old tradition, but because it is grounded in the mystical, universal aspects of spirituality, [this work] is welcoming to people from any background," BenHaim said. "[Participants may be] of any faith. Some have no religious background, but a deep sense of spirituality."
To learn more about the annual Bet Alef Shabbaton Meditation Retreat, visit https://www.betalef.org/avodah/retreat/.
Faculty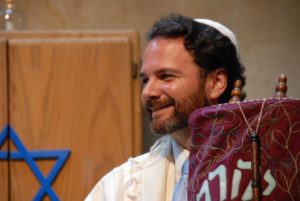 Rabbi Olivier BenHaim
Rabbi Olivier BenHaim officiates at Bet Alef—an inclusive, progressive, independent Jewish community deeply rooted in the enduring evolving wisdom of our ancient texts and traditions, yet unafraid to borrow and build from other sources in the service of offering a transformative personal spiritual encounter to all who come under our roof. Rabbi Olivier's biography is available here.
Learn more about Rabbi Olivier BenHaim