POL II
With Christie Lynk and Craig Fleck
February 6 - 8, 2020
 POL II is an annual Powers of Leadership Alumni Retreat. Join Christie, Craig, Sharon and Larry in this 21st year of POL.
We'd love for POL Alumni to join us as we once again gather to deepen our awareness of the leadership challenges we are holding and the good work we are sharing. As we gather from across sectors, we will draw upon and strengthen the immense capacity within the POL II collective to reassess and engage what is now needed in our wider commons. Come visit the land and walk with us in winter . . . though we can't promise the stunning snowfall of last year!
Contact Christie with scholarship inquiries.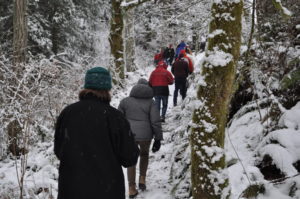 Kathleen Gibson photos.
Faculty
Christie Lynk
Christie Lynk teaches at Seattle University in the Master of Arts in Existential Phenomenological Psychology Program. As one of the founders of The Seattle School, she brings twenty years experience in adaptive leadership. Partnering with organizations and individuals through Conversations and Gatherings, Christie offers sabbatical intensives, contemplative retreats and consultation. Her teaching explores the realms of personal development and spiritual formation through Earth, Spirit and Community. Christie recently became a grandmother and is a student in the world of wonder as seen through the life of a child.
Learn more about Christie Lynk
Craig Fleck
CRAIG FLECK has been a consultant to business, education, healthcare and non-profits for over twenty years. His work has held common threads of developing leaders, cultivating organizational learning and implementing generative changes across diverse sets of stakeholders. His experience with this broad base of clients has heightened his respect for leaders confronted by today's pressures and deepened his commitment to the power of courageous conversations to steward more vital organizations.
Learn more about Craig Fleck