Daylong Mindfulness Retreat
With Sarah Manchester
May 9, 2020
Take time and gift yourself a day of mindfulness with Sarah Manchester!
Learn why it is important to meditate
Learn mindfulness meditation or enhance your existing practice
Take meditative walks on exquisite trails
Enjoy a delicious meal (lunch provided)
Write, collage, draw, and contemplate (art materials provided)
Spend time in reflection and discussion
Come for one day or build on your practice and come to all three days. Each daylong retreat will focus on a specific mindfulness meditation. See the brief descriptions below:
March 14th: Mindfulness of Body. What is mindfulness of Body? With an emphasis on the posture of meditation, we will pay specific attention to our bodies, how we sit in meditation and how we can carry that posture/ practice into our lives.
April 18th: Mindfulness of Speech. What is mindfulness of speech? In the silence of meditation, what is the aspect of speech? Taking a look at what and how we speak or do not speak our thoughts on and off the meditation cushion.
May 9th: Mindfulness of Mind. What is Mindfulness of Mind? What are our thoughts and how can meditation help us to work with our thoughts?
Cost is $85.00 for one day or $210.00 for all three days.
For more information and to register, contact Sarah.
Sarah is a student of The Dzogchen Ponlop Rinpoche and a senior student in the Tibetan Buddhist lineage. Photo by April Huizenga.
Faculty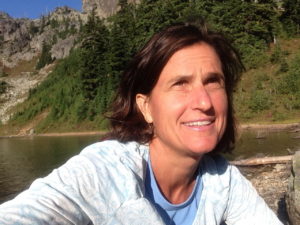 Sarah Manchester
Sarah Manchester lives on Whidbey Island with her husband, 2 young adult sons, Dylan and Drew and her dog, Zoey. She is a Psychotherapist in private practice and what has been the most profound influence on her professional work has been her 30 year meditation practice. She is also a trained art therapist and loves what art brings out in herself and the people she works with. Sarah feels fortunate to live in a place with such easy access to nature as she has great respect for the trees, mountains and the sea. Sarah has lead a weekly meditation group…
Learn more about Sarah Manchester