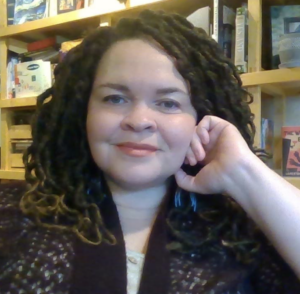 Sharmayne Arrington, LMHC is a therapist, consultant and clinical supervisor. She holds a Masters Degree in Counseling Psychology from the Seattle School of Theology & Psychology and owns a private practice in Tacoma Washington. Her work focuses around psycho-spiritual abolitionism, mainly with African-American women & femmes. She seeks to dissolve internalized oppressive harm by co-discovering ways to live in a false construct in the midst of its glorious breakdown. She sees how we as people have had to become imbalanced in order to cope with an imbalanced system, and seeks to help reclaim equilibrium.
Sharmayne is trained and certified as a Sensorimotor and EMDR therapist, and she is highly informed by Internal Family Systems, Step work and Dream work. She is committed to having one foot in the evidence based world of psychology and the other knee deep in the pool of subconsciousness. She sees tearing down the illusion that is white supremacy as one of the great paths of healing for the human species.
Sharmayne was born into an activist family and learned from local politicians and educators who were committed to equity work with black students in the underserved areas of Southern Nevada. Sharmayne came up from homelessness as a teenager in Las Vegas to getting a BA in Theology before earning her Masters in Psychology in 2006. Before opening her private practice in 2011, she worked for institutions such as the United Indians of All Tribes Foundation, The Atlantic Street Center, and University United Methodist Church in Las Vegas. She has served on the Alumni Board for The Seattle School and has worked as a panelist and presenter for many organizations.
Events with Sharmayne Arrington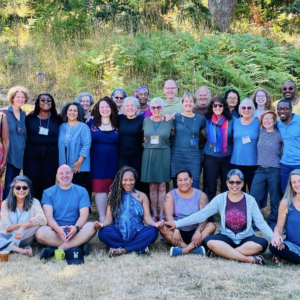 Dare to Connect WE-LAB
August 17 - 21, 2022
This interactive workshop with the Solfire Relational Institute will create a space to explore and support our capacity for a "we-space" that embraces our differences and maximizes our practice in connecting with each other across those differences with curiosity and fierce love.  The workshop begins on Wednesday afternoon, August 17 with arrivals before dinner and ends at noon on Sunday, August 21, with lunch available before departure.  Are you drawn to engaging with others across racial, generational, ethnic, gender, religious, and class differences in ways that account for inequitable power relations and structures?  Do you desire to experience…