Sacred Pause: A Retreat for Women
With Joanna Dunn and Amber Zimmerman
August 31 - September 4, 2022
Yoga, Meditation, Writing and Visual Arts in Nature
As women, we are often doers, caretakers, and volunteers. It is difficult for us to stop, to take time for ourselves, to care for ourselves. Yet, it is essential for leading a conscious life. Allow this retreat to be a time for you to return to yourself, to reflect and integrate, to heal, to take a "Sacred Pause" and tend to what's within your heart. This is a perfect retreat for a woman who is going through a transitional period in life and is ready to rediscover herself. All ages are welcome.
The theme for our retreat is the power of story. We will uncover our personal stories through writing, sharing and visual arts.
"What's your story?"
in a patriarchal society, women's stories are often undertold and undervalued, even by ourselves. This retreat is an alchemical blend combining yoga and somatic movement, meditation and reflection, journaling and free-writing and artistic expression in the beauty and quiet of a natural setting at the Whidbey Institute.
Each day we will combine quiet and guided meditations with journaling and reflection. We will explore the stories in our bodies through movement. With the aid of a guide, we will wake up our inner artist and create visual representations of our stories using words and imagery. Each piece of the alchemical mix will feed the others. In what way does moving our bodies mindfully interplay with our expression on paper in writing or drawing? As we walk on the trails and take time to contemplate the beauty of a tree or leaf, are new pathways equally opened to find beauty in the stories of our own lives?
No prior experience is necessary in any of the fields mentioned. Those new to Yoga, Meditation, Writing and Art are all welcome.
Sources and resources for our retreat include Natalie Goldberg's "Writing Down the Bones", Elizabeth Gilbert's "Big Magic", Annie Murphy Paul's "The Extended Mind" and Julia Cameron's "The Artist's Way".
For more detailed information, please visit JoannaDunn.com
Faculty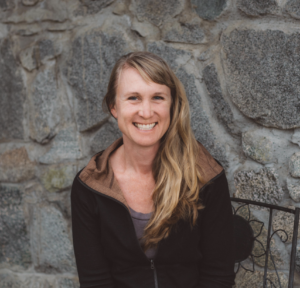 Joanna Dunn
Since she began teaching yoga in 2000, Joanna has studied a wide variety of styles and approaches to yoga and movement. The evolution has taken her toward what she now calls Virya Yoga – Yoga for Vitality and Longevity. Incorporating neuroscience and techniques for the aging body, Joanna weaves together Mindfulness Meditation, Somatic Movement and Alignment-Based Yoga in a friendly, accessible manner. A native of the Pacific Northwest, Joanna is honored to be bringing her work to the Whidbey Institute. You can find more information about Joanna at JoannaDunn.com.
Learn more about Joanna Dunn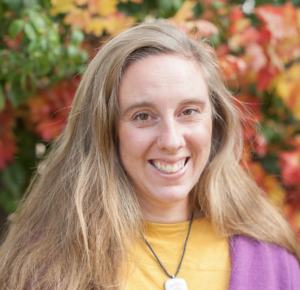 Amber Zimmerman
Amber Zimmerman is a fourth generation woman artist. Art is a way of life for her and her family. Amber enjoys working with a variety of mixed mediums to create symbolic art that celebrates the connection and sacredness to the cycles of nature. Amber earned her B.A. from The Evergreen State College in Environmental Art, in 2000. She has been active in the local arts community and has participated in several group and solo gallery shows throughout Washington State. In addition to her studio work, Amber teaches art at Alpine Lakes Elementary, adult step by step painting classes, and mini…
Learn more about Amber Zimmerman